Welcome to Circle M Aussies!
At
McLemore Farms
, we raise quality Standard, Miniature, and Toy Australian Shepherds. McLemore Farms is located in Colony, Oklahoma which is a small community in the western part of the state.
We guarantee a happy, healthy, socialized puppy and each pup will be checked by a veterinarian before you receive him or her.
We specialize in the health, temperament, and conformation of our dogs.
We have an nine-year old who helps socialize all of our pups at a young age. We also take our pups to our rodeos where they get lots of extra attention.
In addition to our dogs, we raise wheat and cattle at McLemore Farms.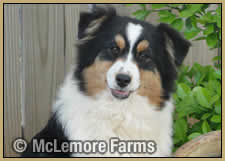 Our
Standard Aussies
range from 45 lbs to 65 lbs standing at a height of 19" to 23" tall.
We have all colors: Red Tri's, Red Merles, Black Tri's and Blue Merle's. Standards are Registered with the AKC and/or ASCA. Parents are DNA'd so you know you are getting the dog you wanted. They have some champion bloodlines and some working lines. Each have great temperaments and most have been born right here at the ranch. We have been raising standard Aussies for over 25 years. We have OFA'd and Cerf'd our
males
and most of our
females
. All will be done eventually.
The pups are heavy boned and stocky and very intelligent.
Standards like to have lots of room to run and play. Exercise is a must. They thrive on daily walks, going to the park, playing ball, Frisbee, jogging or going for car rides. Aussies want to be with their owner. Socializing your new Aussie in puppy classes or with children is greatly encouraged. It makes them a smarter, more well rounded dog. They do carry the herd instinct, so keeping them busy is something they need so they do not get into trouble.
We have several standards that will sure work a cow! They will do whatever you are willing to teach them.
Miniature Aussies:
Our "minis" range from 16 lbs to 30 lbs standing at a height of over 14" tall at the wither to 18" tall. Minis are registered with the NSDR & ASDR. We have some minis that are very livestock aggressive and some that are not.
We have been raising minis for over seven years now and have spent years changing our lines, bringing in new lines and taking away lines that did not fit our program, only for the reason of breeding more sound dogs and to "better the breed." We had several fourth generation dogs born here in 2006 and know that the great grand sires and dams of our dogs have been OFA'd as good or better, so we know of six generations or more of sound breeding dogs in our pedigrees.
All of our minis are laid back, not hyper. We have them this way for a reason. They are sold as pets and a hyper dog doesn't do well in an apartment or in the car. The miniature Aussie is a great hauling partner in the vehicle, as they are small enough to ride in a car and stay in the house or hotel and are easily house trained.
Our minis don't seem to shed like our standards. We have four females in the house and shedding is at a minimum. These dogs are very intelligent and extremely loyal. They do so well with children and are not so big to bump a child and accidently knock them down. Aussies love to engage in a game of chase or keep away. I have looked outside and observed my daughter and different dogs going down the slide or jumping on the trampoline - they do whatever she does. Once you own a mini Aussie, you will want another one.............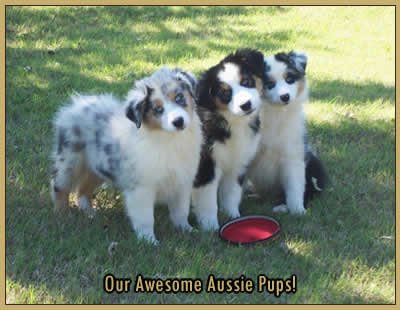 Toy Aussies
are 13" tall or less at the wither. Our toys weigh between 10 lbs and 19 lbs.
They are more of an indoor pet. They like to be with you all the time - a little version of the big Aussie.
We have REALLY worked hard getting the Aussie look on our toys. They are real heavy boned and have great head and ears. Some toy Aussies in the world don't have the privilege of having a "real Aussie look."
We strive to put that bone and look on our small dogs for those of you who want the look and color of an Aussie in a really small package. Our toys are not "barky" and have all the traits of a standard size Aussie - minus the added energy and need for a large play area. They are easily house trained and make great kid dogs. If the children respect animals, they are loving and loyal just like the bigger dogs.
Our dogs are OFA hip-tested, CERF eye-tested, and are checked for good bite before breeding. If you are looking to buy an Australian Shepherd, you should ensure that your new pup's parents have been tested. It is very important to know what may be inherited from the parents.
We feed our adult dogs Iams mini chunks and our pups Iams puppy. You will receive an Iams puppy sample with your new addition as well as a puppy packet including toys, treats, first heartworm pill, shot record, and registration papers when applicable. All pups will be vet checked here and we ask that you have your pups checked by a vet once you receive them for your peace of mind.
We do ship our puppies after they turn eight weeks of age. Shipping is approximately $300, subject to change with size of puppy.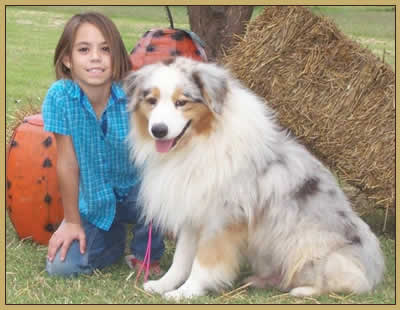 Raising Aussies is my hobby, not my job, so I put forth my whole heart, effort, and lots of time into raising the nicest, most well-behaved dogs I can. They are all on heartworm prevention as worms, of any kind, can kill a dog. We have 100 acres on our farm for them to run and play.
We also raise cattle. We run registered angus bulls on Brangus cows for a nice yearly herd of calves. Our cattle and horses wear the Circle M brand, so we decided to have McLemore Australian Shepherds named Circle M Aussies.
I am a stay-at-home mom, who is an Oklahoma state licensed Esthetician (Facialist) and a certified Jeweler. I have worked at several vet clinics for years and worked as an accountant. I've also broke and trained horses, including training my good barrel horse on barrels.
But after my daughter was born, I wanted to be here where I could raise her and be here for her. I have been blessed to be a well-rounded person with many skills, but raising Aussies is my passion. I love it dearly.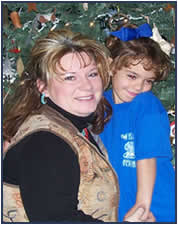 Today, I watch after the farm and ranch, so I have plenty of time to play with and socialize our pups. I am easy to get a hold of and will work very hard to work around your schedule. In the summer, I am either on the tractor getting ground ready to be planted with crops or at a rodeo... so we stay busy along with caring for our dogs.
I take a lot of pride in my kid, my horses, and my dogs - and those who know me know what a true statement that is.
Thanks for looking at our wonderful dogs and let us know if we can place a wiggling bundle of joy in your home.
~Carla @ Circle M Aussies