Customer Comments
Our family absolutely loves our Circle M Aussie, Bob. I really appreciated all of the communication in the weeks prior to picking Bob up. All questions I had were answered, and he is everything we could have ever wanted. Bob has the sweetest disposition and full of personality. Every morning when I wake up he howls at me and continues to hold a conversation throughout my morning routine. I love how vocal he is.

He is a gopher hunter, ball junky, water hog kind of dog. Occasionally his nick name becomes Pig Pen, as he loves to become one with earth. Bob is great around the horses and loves to kiss the nose of our miniature horse, Spartacus. They often play together, which show his loving personality.

We recently took Bob in for his 1yr annual check up and he is a stout 48lb pup. He received a clean bill of health, and we just couldn't be any more happy with our Bob Bob.

Thank you for breeding such wonderful dogs!
Melissa Trimble
Hi Carla,

Just wanted to give you an update and send some new pictures of Tess! She just graduated her puppy class last Saturday and begins her obedience class in January! She's the smartest puppy I've ever had! So far she can sit, lay down, shake and rollover. She loves every person she meets. She's all around an amazing dog! I get compliments on how good and beautiful a puppy she is everywhere we go! Thank you for such an amazing puppy!

Happy holidays to you and your family!!

Sincerely,
Kylie Garrett
Carla,

Hope you all had a Merry Christmas!

Lizzie enjoyed the holidays very much and got very excited for all of our company.

We ❤ Her! She is getting big!

~Danae


Carla,

Here's an updated pic of my 2 beautiful girls at 6 months.

We are enjoying them so much. They have brought much love to my husband and I.

Of course they get so much attention every where we bring them and they love that too.

Thanks again and hope you and your family enjoy the holidays.

~Denise


Carla,

This is Mylee at 8mos. She is so gorgeous like her daddy. Plus such a mommies baby.

We could not be happier with her. Thought you would enjoy the picture.

Sincerely,

~Ginger


Dear Carla,

At this time and always we want to tell you how thankful we are for your wonderful breeding. We are so happy with our dog. You and your family has given us such joy. Andy had his rabies shot and other vaccinations today. He is doing very well and is very happy. He continues to go to work everyday. His favorite job is playing catch. He can sit, stay, lay down, come, give his paw and nearly house broken.

Attached are some pictures for your to share with your family. One in particular is so very beautiful. Can you tell which one it is? Please feel free to use any one of them to show off this beautiful creature. And, feel free to tell everyone how happy you have made one Connecticut family.

Again, thank you and God Bless you.

~Debra, Darryl and Lisa Simons


Carla,

Thank you for the additions to our family! The boys are having a great time playing and loving on them. Both pups are so smart. They are not crying at night in their kennel and are not going to the bathroom in house.

Jasper is in love too. He now has two more friends to tumble around with in the grass.
So our simple search for one pup turned into three. We love our trio of black tri's.

We are going to attempt a Christmas card with all the boys. Thanks for the great pups!

~Tina Tucker
Hi Carla!

I'm sending you some pictures of Bear. I got him from you in Oct 2009. I see you still have his picture as a puppy on your website ;)
He's a great dog and trained very well. I am asked frequently where I got him and give your website out. Extremely intelligent and a great disposition. Bear goes to work with me each day and several of our clients ask about him before we discuss business. Lol
Thanks again for caring and breeding such excellent dogs.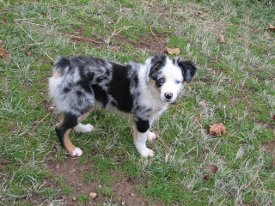 Carla,

My husband and I absolutely love our new addition, an Australian Shepherd puppy, to our family. We named him Jaz and, along with our other dog and three outside cats, he fits in perfectly. Jaz is such a smart dog and such a joy to be around! I also want to thank you for your professional business manner. Because we are located in northern California, the only way we could pick a puppy was through talking with you either by phone calls or via email. Not only were you were very prompt about answering all my questions, you sent extra photos of the pups we were interested in to help us choose. Overall, it was a wonderful experience buying Jaz from you. Thank you so much, Carla!

Carla, we hope your business continues to do well. Thank you again,

~Pamela

Bo and Luke living in Houston!
"Hi Carla,

We LOVE this dog. We named him Linus, and he has adjusted well to being part of our family. We started him in obedience school at 8 weeks and he is impressing everyone with his intelligence. We take him for a walk every morning before we leave for work. He is great on a leash. He's still a bit of a nipper when he plays, but we're working hard to break him of nipping at us. The girls are more comfortable with him now, so we know we're making progress. Attaching some photos that we took this weekend.
We want to thank you for all of your help as we were trying to choose the right puppy for our family. When we visited your ranch, it was clear to us that we were working with a good caring breeder. It was a relief to be able to rely on your knowledge and experience. We are so proud of him and excited to have such a great dog.
Thanks again.
~Russell and Disa

"Carla,

I wanted to let you know how much we enjoyed dealing with you recently, you were great!
Jake is a wonderful dog, so smart and he loves to play. Our family is really enjoying Jake, he's the perfect dog, and we can't imagine not having him in our lives.
I've attached a couple of photos for you to have of Jake. He has really changed in appearance over the past few months
Thank again,
~Lance, Beth, Colin, and Cade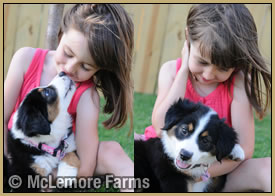 "Carla,

I just wanted to let you know how excited Payton was to get her puppy. She named her Aggie. She is having the best time and Aggie is adjusting just fine. She loves to play and hasn't messed in the house once. She is a great puppy!
Thank again,
~Erin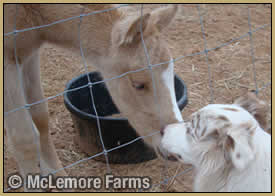 "Hello Carla,

Here's a couple of pictures of Cinnamon. She's the best dog I've ever had. I've never had one that listens like she does. We just had a new baby foal (1 week old today), and she's so good with it. The mare doesn't even mind she around him.
Thank you again,
~Tina

"Hello Carla,

It's been about a year-and-a-half since we adopted our puppy from you and I just wanted to tell you that we are so appreciative that you let him become part of our family. We named him Jurnie and he is sweet, smart, loving and a very important part of our family. He loves to go hiking and camping with us and his favorite activities are playing fetch and Frisbee. He and I have aced several obedience classes and we're currently taking a tricks class together. He really loves being active and challenged.
I have attached a few pictures of him so you can see what a beautiful dog he is.
Thank you again,
~Dawn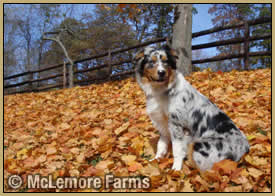 "Hi Carla,
Wehave been wanting to get in touch with you and let you know how wonderful everythings been going with our newest member of the family, and finally all is calm after the wedding hussle and bussle! We named our lil one Kiah and she is perfect for us and gets along great with our Border Collie mix Jake they are truly "best buds" and do absolutely everything together! She is very well behaved and such a lovey dog, she is always close by with a big wet kiss or trying to wiggle her way onto our laps. She is also perfect with small kids and babies, she is so gentle and caring and quit the cuddle bug. Kiah also has a crazy fun side and loves to play fetch, catch, balance a ball on her front feet while she lays on her back and just today she was giving it her best to bring our goats in while we were feeding. We can't tell you enough about her she is a compliment to our family and we are lucky to have found her! Here are just a few pics of our lil girl...
Thanks again!

~Rudi & Niki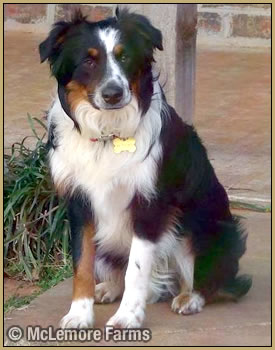 "Hi Carla,
Just wanted to send you a picture of Chex. He is approaching his first birthday in a few months. I just want to thank you for such a GREAT dog. He stays right by my side where ever I go. He was so easy to house break and train. He loves to go with me to rodeos and is a great hauling buddy and friend. Just wanted you to see how pretty he turned out to be he is truely a SPECIAL dog!
Thanks again,

~Kim
"I just wanted to give you an update on Chase. He has been FANTASTIC! He is exactly what an Aussie should be. Chase has a GREAT personality and has been impressing the dog trainer we are using. Mia has been training dogs for over 25 years. She has been very impressed with how quickly Chase learns his commands. She always comments on how great of a temperament he has around. She even suggested that we think about doing obedience with him because he picks up training so quickly. He has been playing great with our kids and looks forward to their bath time routine every night. At 5 months old he is also doing great in the beginning stages of Frisbee training and he should be well on his way to becoming a competitive Frisbee dog. He is focused and driven for the Frisbee and I'm actually having a hard time keeping him from jumping so high at this young of an age.
He has been a great addition to our family! Big thumbs up to you and Wink & Whiskey. Circle M Aussies has produced a great one in Chase!."

~David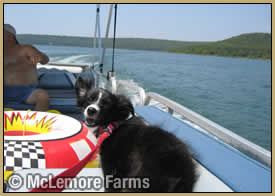 "Thought I'd send a quick update on Auzzi.
She went through her surgery with no problems. I don't think it bothered her as much as it did us...lol! She weighs a whopping 6.5 lbs.
We took her to Lake Tenkiller last week on a 4 day outing and she was wonderful. I've attached a couple of pictures of her on the lake in the pontoon boat. One is of her, Roger and our 13 yr. old twins, Clancy and Chance Cox. She loved the wind in her face but wasn't very impressed when we held her in the water to cool off! When Roger and I would take her for a walk...she would try to herd us together if we got very far apart.
I can't begin to tell you how much we enjoy her! She is still very timid with people she doesn't know but she will come to Roger and I when we call her and she walks with no leash and never runs off. She still won't eat if ANYONE is watching her and of course, she has a special place to sleep on our bed!
Everyone tells us that we have the PERFECT housedog!"

~Pat
"As we were coming up on Loki's first birthday I wanted to send you something to show our thanks and show you how he is doing. He has now grown up to about 60lbs and is a dapper gentleman shepherd. He has
completed a few obedience school classes, is a regular at the farmer's market, the no-leash dog park and a doggy daycare for a few days a week. He is going to try his paws at herding this winter (I will send pictures!). He is much adored by all of my family and spends time with both my girlfriend and myself at work. I put together a small collage of pictures that kind of explain our life.
The first few show him as a puppy, at first at work with me (so small!) and on to coming to polo with us.
We have his adventures with meeting the pool for the first time as well as napping on our new cleaned laundry!
Some of him napping and cuddling on the couch as well as a my personal favorite labeled "loki personality" which proves that 1 picture is worth 1,000 words. I hope you enjoy and I just wanted to express our gratitude again for all of your help in placing this wonderful animal with us. Thank you so much."

~Bruce, Sarasota, FL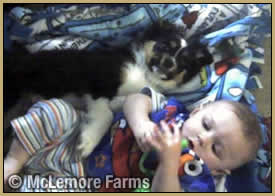 "Hi Carla !
Last February (07) we got an older puppy from you (named Joey). I just wanted to let you know how he was doing and send you a few pictures. I have had labs, poms, and standard size Australian Shepard's all my life – so when I decided on Jackson (that is what we named him) I knew we would be happy with him. I CAN NOT tell you how great this dog is … he is absolutely – hands down – the best dog I have ever had. He was potty trained in less then 3 months and now has full reign of our house – he is so attached to our 2 year old that he just follows him around the house all the time. We could not have ended up with a more perfect dog for our family. I don't know what we would do without him. We are thinking about getting him a "buddy" to play with. Our other 2 dogs are very old poms and they don't want to play with him much. We are really thinking about getting a little female mini aussie as a companion for him – we really can't get a tiny puppy because we have a 2 year old and a 5 month old – along with a new business of our own, a Clown Fish breeding business. So, keep us in mind if you have any older puppies you are trying to find a good home for – we would love to have another one :)
I am attaching a few pictures for you – I hope you and your family are doing well ! Thanks again for such a wonderful addition to our family!"

~Mindy, Tallahasee, FL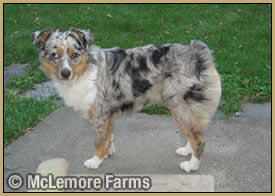 "Hi Carla,
I just wanted to let you know how pleased we are with the puppy that we got from you a year ago. She grew up to be a beautiful and well behaved dog. I sent a photo to show you what she looks like. I love when she walks because she has a certain bounce in her walk.
Thank you again. We love Jenna. "

~Ed and Silvia, Devils Lake, ND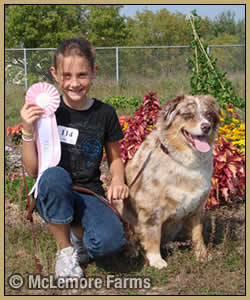 "Carla, thought you mind like a picture of oakie and my niece Anna at the Wisconsin state agility dog show.....she was 4th overall. oakie is now four years."

~Jaquish Farms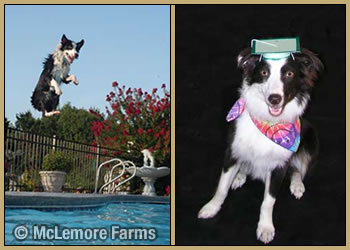 "My partner and I purchased a red tri aussie from you earlier this year. Just wanted to send a few pics of this darling girl, who has a wonderful personality and approaches everything with a bang - cannonball style: see swim pic below where she's jumping off of the side of the pool. Also sent beginners obedience grad pic and one of her and her sister hiking in Boulder, Colorado."

~PJ

"Hi Carla,
Just a note (and a couple of photos) to let you know that Kendal has settled in and her trip to the vet went great, she couldn't have been better for exam or getting micro-chipped. Comments from our vet and his staff were pretty consistent across the board - "WHAT A NICE PUPPY". We'll keep you up to date on Kendal's progress and just to let you know - we're less than 30 minutes from the Sacramento airport and would be happy to do anything we can if you need help getting a dog to someone out here.
Thanks for everything "

~Steve and Suzanne
"Hey Carla,
I just wanted to thank you again for all of the work you put in to help us find Loki, he has made such an impact on our lives even in the short time he has been with us. Within the first week, we were inundated with people asking to dog-sit for us. Loki makes friends everywhere he goes and now has a following both at polo and the farmer's market. People can't believe how much he grows each week! Thank you so much for all the help you gave us in getting him down to Florida and working with us to find the perfect little addition to our family."
~Bruce and Courtney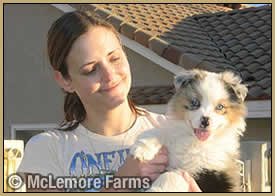 "Hi Carla,
Just wanted to let you know that little Bowie (I wanted Memphis but was outvoted) is fitting right in with the family. It's been icky and rainy out here, so he's inside most of the time (he doesn't like the 70 mph santa
ana winds either). He loves to eat ankles and hang from my daughter's diaper and she drags him down the hallway. After the first night, he slept in his kennel all through the night. He gets along great with Yhetti. He attacks her and hides under the chairs in the kitchen so she can't get him back. He is very social, loves everyone and their dogs and is a one man welcoming committee every day I come home from work. Thank you so much for such a beautiful, happy pup! Here's a few pics of him with Yhetti and from my sister's baby shower (he stole the show!). I hope all is well for you."
~Meredith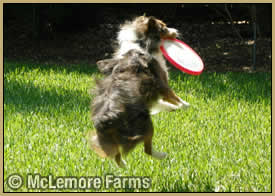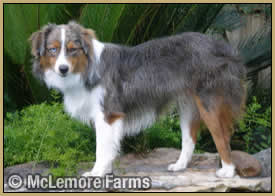 "Hi, we are the people from Houston who picked up Brandon during Christmas break. Brandon's new name is Dakota. The Lohn's, our neighbors, are picking up one of your female puppies this weekend. I think that Dakota has a new half niece moving in next door.
This reminded us to send you some pictures of Dakota. Dakota likes to chew on rocks. He loves to catch the frisbee. He likes to swim in our pool. He likes to run in the creek behind our house. He likes to catch the tennis ball and loves to jump up on the trampoline with us. The trampoline has a netting around it so he will not fall off. Here are some pictures of Dakota. We think that he likes being a city boy....
~Nathan and Alisha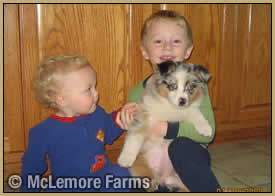 "Thought you would like to see these! We love her, She is everything and more than what you told us about her! What a wonderful addition to our family."
~Kristy
"Hello. I just wanted you to know that Cinnamon (the white red merle female) is doing great! She's getting along great with our other dogs - in fact our Schnauzer thinks that she is her "puppy", and spends bunches of time licking and playing with her. She is a very smart pup, even as young as she is.
The first day I walked into the vet's office for shots, the receptionist wanted to know where I got her - she was so cute.
Thanks again,

~Tina
"Hi Carla,
Hope all is going well for you and your family. I thought I would send you a few pictures of Gracie.She has matured into the most beautiful girl and has the personality to match. We are just so proud of her!
Thanks again for such a wonderful pup!"
~Shelley
Gracie is a double blue-eyed black tri female of Spencer and River.
"Carla,
We are so happy with our little girl! She is growing by leaps and bounds everyday! Its amazing how fast they grow up. She is the sweetest girl she greets everyone with a kiss! One of my friends came to see her and when I let Lexi go she ran up to her wiggling and proceeded to attack her with kisses! She sees everyone as a friend. She follows me everywhere and helps clean stalls (when the horse is in another pen!) She seems to have found a friend in my older gelding, he always puts his head down to her when she walks up to his pen so they can get a better look at each other! I'll work on a picture of them! You know how animals are! I can't wait to take her with me to the horse shows this year I know everyone will love her! We already have a lady wanting a puppy from her first litter. This lady has an older dog now so she'll be ready for a puppy when and if Lexi has pups. I would like to see if Lexi wants to be a stockdog and go from there! Maybe she'll have a WTCH in front of her name one day! We took some of these pics today for her ASCA reg. I'll keep taking pics so you can watch her grow up into the beautiful girl I know she will!!
~Jamie
"Hey Carla,
Lei Lani and I wanted to write and tell you how much we love each other and how happy we are together in Hawaii. Lei Lani is so happy.
She takes every step I take and goes everywhere I go. We all go to the beach every single morning for long walks. She loves going to the ranch with me to see our horses. We moved full time to Hawaii last year. I just wanted you to know how very much I appreciate the fact that you breed amazing dogs and I got Lei Lani. I'm sending you pictures of Lei Lani and of our home here in Kauai.
Thank you! Aloha!"
~Scout Cloud Lee
"It was well worth the effort to get my Aussie pup 'Jenny' from McLemore Farm - she is an incredible dog! She is healthy, smart, and has an incredible disposition.. She is enjoying the Florida Keys, and loves to go boating, looking for Dolphins. I highly recommend getting an Aussie from McLemore Farms."
~Elaine
(Elane flew to Oklahoma to get her new pup 'Jenny' and drove her back from Oklahoma to the Florida Keys... what a trooper!)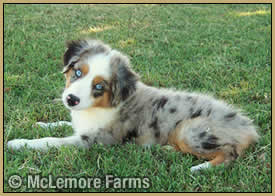 "hi!! just wanted you to know how 'hank' was doing. he is a super smart little dog!!!!! and he is sooo pretty!!! "
~Heather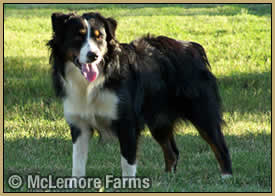 "Carla— I just wanted to take a moment to thank you for allowing me to adopt 'Little Joe' into our family—he is such a joy. He is the epitomy of breeding for that awesome aussie temperament, and such a beautiful boy to boot! He is my shadow and 'protector' everywhere I go outside, staying right at my side while the other dogs are off playing and running, and makes sure that the 'other male' doesn't get too close—in a very good-natured way, of course! (He can't help it if he gets a little jealous!) I hope to do Canine Good Citizens with him this year—I think he would make a wonderful therapy dog! Again, thank you for the privilege of raising him, and I hope to add another little girl from you soon!"
~Julie
"As a veterinary technician I see puppies come into the clinic all the time, and the puppy I received from Carla was the healthiest puppy I have seen in a long time, this comment was also made by the veterinarian I work for. In addition, he was not only healthy and current on his vaccinations and deworming, he was a very well socialized puppy he just loves everybody. He is one of the most intelligent I have seen, at 9wks old he was already crate trained and house training was a breeze. Carla takes very good care of her puppies and I will definitely do business with her again and have recommended several people to her for aussies. My experience was very pleasant in working with her and made the transaction great. Thank you Carla for the chance to own one of your fantastic puppies."
~Amie Van Dorn & Sebastian
"I have known Carla for many years, as a client, employee and friend. Carla's love for her dogs, leads her to strive for improvements in the breed, so that you can enjoy a well balanced, intelligent, loving pet. She follows a strict vaccination and deworming schedule, including heartworm prevention, which most breeders do not administer, due to the added cost. Breeding dogs with good temperments is extremely important to her, because they are always socialized by her daughter, Jaci. Her guarantee on her puppies health is something you can rely on. Carla takes the extra measures to insure your happiness and the pups happiness. You can feel confident purchasing your new family member from Carla McLemore."
~Marilyn A. Wolgamott, DVM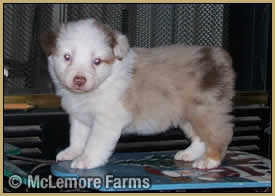 "Panda is doing great. She has adapted well and is doing terrific at crate training. She is very loving and our kids adore her. We will send pics after New Years.
Thanks again!"
~David
"I have known Carla for three years. First and foremost we have developed a great friendship. We have shared co-ownership on some dogs. Carla takes her dogs very seriously. She goes to great lengths to make sure the dogs she's breeding are healthy and sound. I have witnessed many examples of her fairness and honesty. If she says 'she will do something' believe me she will. Carla has a wonderful program and is always striving to get better..."
~Deadra Buffing @ ~Horse Creek Aussies~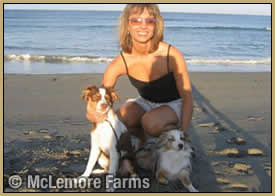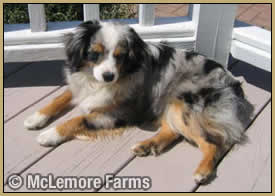 "I have bought four puppies from Carla Mclemore over the past two years. Every one of them arrived completely immaculate, healthy, happy, and so well socialized. They are all beautiful, with wonderful temperaments. Everyone who meets them, loves them and asked me where they came from. I am always proud to say from Mclemore Farms and encourage anyone to contact Carla. Carla is very accessible, and easy to talk to. I believe her to be very honest and she truly cares about her dogs. She is always there to lend support and advice, and loves to see pictures and get updates on all of her puppies. I have never met Carla in person, but consider her a friend. We have had many phone conversations and e-mails over the past two years. You can rest assured that if you are getting a puppy or an adult dog from Mclemore Farms, that you will be completely happy with your decision and have a beautiful addition to your family."
~Kathy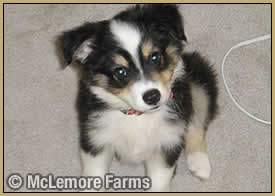 "This is a picture of Riley at 2 months.
Riley is such a fun loving dog. He is very outgoing and loves all people and all other animals as well! He is the happiest dog that I have ever had, and is such a joy in my life."
~Kim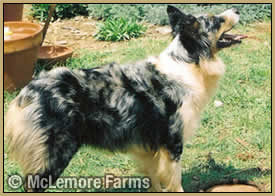 "I just wanted to tell you that we have enjoyed her so much. She loves to play frisbee and makes some awesome catches. She keeps the kids outside playing with her, and when she is done she comes in is a perfectly behaved girl. We get comments on her everywhere we go, and several requests for puppies. I've decided to only breed her to another frisbee aussie, so it's been a hard hunt for the right dog."
~Heather
"I would like to say however that we have already discussed a desire to purchase another puppy from you some time in the future. We absolutely love our aussie and he has proved to be an excellent dog. I can definitely tell that you spent time with our pup and it has made a huge difference. We tell everyone we know how great a breed he is and how diligent you worked to get him to us. I think most breeders would have given up in getting our pup to us but you were great to deal with and work with. Thanks again and I will have my wife send a picture and comments when she can."
~Bill in Bradford, PA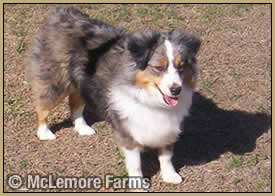 "We bought Jane form McLemore Aussies and she has been a great addition to our family. Carla is a great person and easy to deal with."
~The Blevins Family
"Hi Carla, Just wanted to tell you how beautiful your little girl is and send you a couple of photos of Scout the Wonder Dog. We had snow a couple of weeks ago and he was just amazed at the stuff falling out of the sky. He was out there for about an hour just running and playing in it. He is so smart. I have taught him all kinds of tricks and he learns so fast. I really wouldn't mind having another one..............ha ha. "
~Carol in Michigan