Spencer -In Memory
Born: September 9, 2005
Died: April 23, 2008
Spencer passed during a bad storm at McLemore Farms. May you rest in peace and chase cows all day up in heaven.... and no storms to scare you.... We love you!
Standard Male
Black Tri Male
Two Blue Eyes
Blue-eyed tri producer
ASCA/AKC Registered
Great disposition
Excellent bone
Eyes CERF cleared
Hips OFA prelim good
DNA verified
Spence was born here at Mclemore Farms at a very down time.Who would have known he would be so beautiful and have two pierceing blue eyes. I feel only the Lord could have blessed me with such a nice, and rare pup at such a trying time.
Spencer is turning out to have a real drive for working the cattle and horses.We let him work to his leisure. He has not been to school, but wants to work really bad. It is natural for him. He goes in and has the aggression needed for a working dog, but in return is real laid back around the house and is not hyper at all. He is a special guy, therefore we think his pups will make the all around great dog - work, beauty, and smarts!!!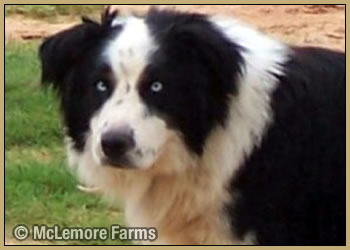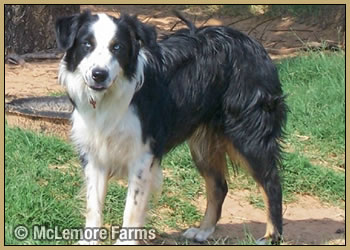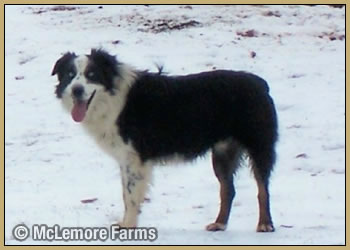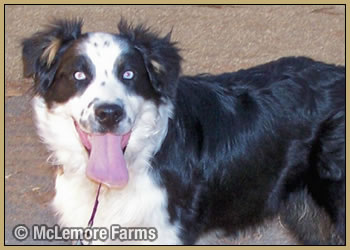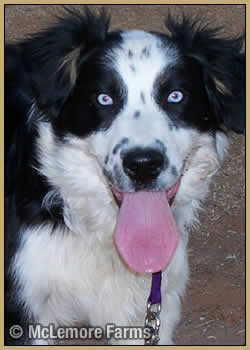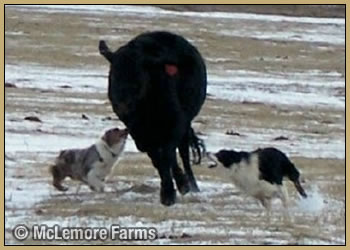 River taking ahold, and Spencer to the head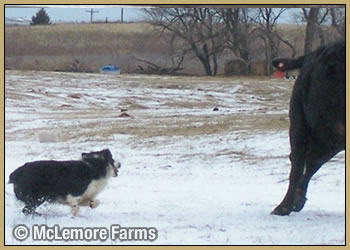 Spencer turning her back

The Standoff