Welcome to Circle M Aussies!

An Aussie Lazy Day!
At
McLemore Farms
, we raise quality Australian Shepherds, breeding to the breed standard. McLemore Farms is located in Colony, Oklahoma which is a small community in the western part of the state.
We guarantee a happy, healthy, socialized puppy and each pup will be checked by a veterinarian before you receive him or her.
We specialize in the health, temperament, and conformation of our dogs.
We have a daughter who helps socialize all of our pups at a young age. We also take our pups to our rodeos where they get lots of extra attention.
In addition to our dogs, we raise wheat and cattle at McLemore Farms.
Our
Standard Aussie Females
range from 18" - 19-1/2" tall, and are 35 - 45 lbs. Our
Standard Aussie Males
start at 20" tall, and are from 55 - 65 lbs.
We have all colors: Red Tri's, Red Merles, Black Tri's and Blue Merle's. Standards are Registered with the AKC Reg. Parents are DNA'd so you know you are getting the dog you wanted. They have some champion bloodlines and some working lines. Each have great temperaments and most have been born right here at the ranch. We have been raising standard Aussies for over 25 years.
The pups are heavy boned and stocky and very intelligent.
Standards like to have lots of room to run and play. Exercise is a must. They thrive on daily walks, going to the park, playing ball, Frisbee, jogging or going for car rides. Aussies want to be with their owner. Socializing your new Aussie in puppy classes or with children is greatly encouraged. It makes them a smarter, more well rounded dog. They do carry the herd instinct, so keeping them busy is something they need so they do not get into trouble.

They will do whatever you are willing to teach them.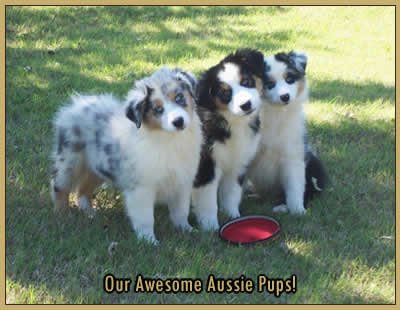 Our dogs are health tested for HC, DM, and Mdr1, and are checked for good bite before breeding. Our dogs are also tested for HSF 4, a hereditary cataract gene Aussies can carry. If you are looking to buy an Australian Shepherd, you should ensure that your new pup's parents have been tested. It is very important to know what may be inherited from the parents.
We feed our adult dogs Iams mini chunks and our pups Iams puppy. You will receive an Iams puppy sample with your new addition as well as a puppy packet including toys, treats, shot record, and registration papers when applicable. All pups will be vet checked here and we ask that you have your pups checked by a vet once you receive them for your peace of mind.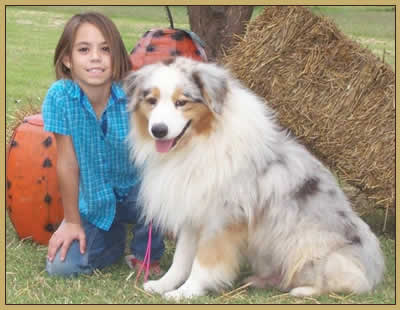 Raising Aussies is my hobby, not my job, so I put forth my whole heart, effort, and lots of time into raising the nicest, most well-behaved dogs I can. They are all on heartworm prevention as worms, of any kind, can kill a dog. We have 100 acres on our farm for them to run and play.
We also raise cattle. We run registered angus bulls on Brangus cows for a nice yearly herd of calves. Our cattle and horses wear the Circle M brand, so we decided to have McLemore Australian Shepherds named Circle M Aussies.
I am a stay-at-home mom, who is an Oklahoma state licensed Esthetician (Facialist) and a certified Jeweler. I have worked at several vet clinics for years and worked as an accountant. I've also broke and trained horses, including training my good barrel horse on barrels.
But after my daughter was born, I wanted to be here where I could raise her and be here for her. I have been blessed to be a well-rounded person with many skills, but raising Aussies is my passion. I love it dearly.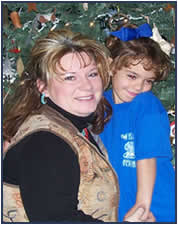 Today, I watch after the farm and ranch, so I have plenty of time to play with and socialize our pups. I am easy to get a hold of and will work very hard to work around your schedule. In the summer, I am either on the tractor getting ground ready to be planted with crops or at a rodeo... so we stay busy along with caring for our dogs.
I take a lot of pride in my kid, my horses, and my dogs - and those who know me know what a true statement that is.
Thanks for looking at our wonderful dogs and let us know if we can place a wiggling bundle of joy in your home.
~Carla @ Circle M Aussies